Registration
update: Friday, September 29th, 2021
No new registration will be accepted!
Thank you for your understanding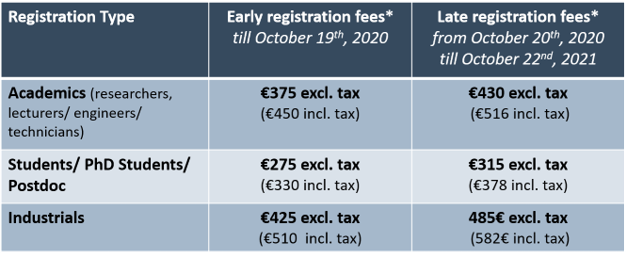 *Registration fees include lunches from November 23rd to 25th and cocktail dinner from November 23rd. To attend the
Gala Dinner on Wednesday November 24th, an additional contribution of €30 (excl. tax) will be required during registration process.
If your abstract has been accepted but you have not registered yet and/ot not finalized/payed your registration, please proceed the steps below :

Your can download the tutorial (see steps 2 and 3)
To Proceed to your pre-registration on the CNRS AzurColloque platform, please click here
After this pre-registration request,on the AzurColloque platform, you will receive an automatic email from no-reply@azur-colloque.fr informing you that you will receive a new email once your pre-registration will be validated (within 48 hours): in this second email, you will find a link enabling you to finalize your registration and proceed to the fees payment.
Please check your spam box!

To Confirm your registration on the AzurColloque payment platform, please proceed to the payment of your registration
/!\ Please, note that it is not possible to pay using the CNRS credit card "carte d'achat".
After confirming your registration and if you chose payment by bank transfer or purchase order, you will receive an email with all needed information to proceed to the payment. Please check your spam box!


If you need an invoice, please address your request directly to DR02.polecolloques@dr2.cnrs.fr
We would like to draw your attention to the fact that an invoice
will be delivered ONLY once your registration will be paid.